[vc_row][vc_column width="2/3″][vc_custom_heading text="Reviewer: Nique Tan"][vc_column_text]Every once in awhile, along comes a product that I wish I did not have to review.
This is one of them.
Having been already using it prior to this review, it is one of those things that I wish I could keep to myself. For a start, let me say that this is an outstanding product, simple, extremely deceptive, very clever and on a personal level, completely in line with the material I am currently performing.
Unbelievalope is a specially gimmicked envelope that will allow you to perform one of the cleanest card to impossible locations, or perform a really fair looking confabulation prediction type of effect. This envelope is in full view the entire time throughout the show, and also the envelope boasts an almost full front window, through which the item to be revealed later can be seen at all times. At the end, you are seen to very cleanly and visually remove the item from inside the envelope, and yet, the specially designed envelope allows you to execute an effortless switch under seemingly impossible conditions. Just watch the online trailer – it really is that good.
The package comes with 3 custom made Unbelievalopes, as well as a link to an online instructional video which goes into detail as to how to set them up. The envelopes are made of good card stock and even with regular use, with proper care should last for a decent amount of time. There is going to be some basic arts and crafts involved in preparing each envelope for use, however it really is simple and making one up took me literally minutes. Some of you may wonder why they could not have come already fully set up – well, it is actually better if you prep it yourself, as it will suit your hands that much better.
Once your Unbelievalope is prepared, it is then time to let your imagination run wild with ideas. It truly is an amazing switching device and is an amazing tool with which to perform some incredible material with flat objects of any kind. While cards and written predictions are mentioned, one could consider using it with bills, credit cards and even photographs.
There is one slight downside to this method. In order to get the full benefits of it, one would need another of Jeff's previous releases such as the TKO. Combining these two together makes for a devastating combo, where both your hands can be seen to be completely empty up till the very point the object is removed from the envelope. However, I personally do not have or use it in conjunction with TKO and am still quite comfortable with it. Jeff does teach very practical options should you not choose to perform with a TKO as well.
All in all, this is an amazing product and whenever I use it, I still am secretly taken aback by how simple it is in design, and yet how completely effective it is in performance. I would highly recommend it, but then again, I do not want to.
It is a painful choice.
Magic is our passion but we are not a magic shop 
 You can purchase this here!
[usr 9][/vc_column_text][vc_separator][vc_custom_heading text="Reviewer: John Teo"][vc_column_text]Jeff Kaylor, the originator of the classic TKO 2.0, and co-creator, together with Michael Ammar, of Any Signed Card To Any Spectator's Wallet, has now come out with a switching envelope he named Unbelievalope.
It is an envelope measuring approximately 7.25 inches x 4.75 inches.  It has an almost full front transparent window.  The envelope and the window are both constructed of durable cardboard and transparent sheet respectively.
The Unbelievalope is used to switch a playing card, or other item that is about the size of a playing card placed inside it.  In the case of a playing card, it can be seen through the front window with its back showing at the start of the effect.  In the case of a written prediction, a folded prediction is seen through the front window.  At the end of the effect, in the process of taking out the card from the envelope, it is switched for another card.  In the same way, the folded prediction is switched for another folded prediction.
The switch appears clean and natural and does not cause much suspicion.  It is also quite easy to do.  However, you need to do some constructions on the envelope by yourself.  It is not difficult to do – it is all taught in the online video.
You receive 3 Unbelievalopes and a password for you to enter into their instructions video online.  In the video, Jeff teaches you 3 routines:
A signed card to envelope that is very clean in performance.  You can actually see the shocked reactions of the spectators.
A confabulation routine where the 3 predictions match exactly a folded prediction inside the envelope.
Another signed card to envelope but with the back of the selected card changes colour too.
Because the window occupies almost the entire front of the envelope, there appears to be no place at all for any object placed inside the envelope to be switched out.  This makes the switch very clean, direct and effective.
Watch Jeff's performance of signed card to envelope.  It is how real magic looks like!  The Unbelievalope is the ultimate switch envelope.
Please support intellectual property. Only buy original. Available from all reputable Murphy's Magic dealers.
[usr 10][/vc_column_text][/vc_column][vc_column width="1/3″][vc_column_text]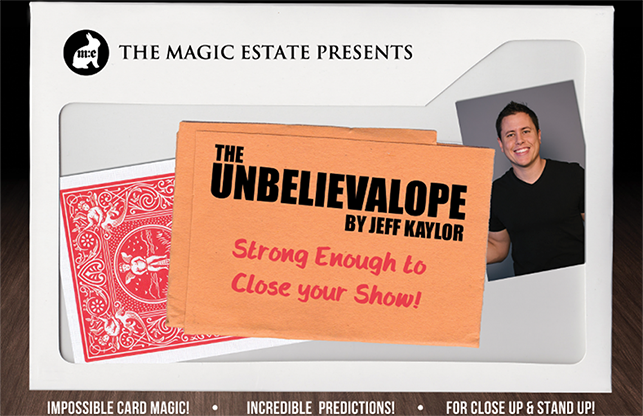 [/vc_column_text][vc_column_text]
[/vc_column_text][vc_widget_sidebar sidebar_id="gp-standard-sidebar"][/vc_column][/vc_row]