[vc_row full_width="" parallax="" parallax_image=""][vc_column width="2/3″][vc_custom_heading text="Reviewer: John Teo" font_container="tag:h2|text_align:left" google_fonts="font_family:Abril%20Fatface%3Aregular|font_style:400%20regular%3A400%3Anormal"][vc_column_text]Unlink is a misnomer.  There is nothing in the effect that suggests that playing cards are linked or unlinked.  Perhaps, the creator wants to keep it a secret why he names his card gimmick "Unlink".
Unlink allows you to "vanish" a card sandwiched between 2 other cards, usually these 2 cards are mates, eg a pair of black Jacks.  You place a card between the 2 black Jacks.  The 3 cards are spread briefly so that you can see your card sandwiched between the 2 Jacks.  In an instant, it vanishes and the 2 Jacks can be briefly displayed fronts and backs to show that there is no trace of the vanished card.
The description on the packaging of the product correctly states that Unlink is not an effect but a tool.  It is a gimmicked card that enables you can add on to a deck of cards.  As mentioned, it enables you to visually "vanish" a card sandwiched between 2 other cards, one of which is this gimmicked card.  An interesting application of this is for the sandwiched card to visually change into a different card.
You receive a well-made Unlink gimmicked card plus some spare item for repair.  The instructions come in a DVD.  They are silent instructions with occasional texts on the screen for more detailed explanation.  This is adequate as you can follow what are being taught to you.  However, I feel this is rather impersonal especially since the DVD runs for more than 32 minutes.
Unlink is a versatile gimmicked card that allows myriad applications.  In the DVD, Jordan Victoria teaches you 5 routines:
Vanish And Appear – a card vanishes when sandwiched between 2 cards, and reappears elsewhere.  This is the basic application of the Unlink card gimmick.
Transposignature – signed card of spectator No 1 visually changes into the signed card of spectator No 2.  Spectator's signed card is reproduced elsewhere.
Double Voyage – selected card vanishes between 2 cards to reappear back in the deck face downwards.  It is placed once again between the 2 cards and again it vanishes and reappears back face downwards in the middle of the deck.
Colour Change – back of a selected card sandwiched between 2 other cards changes to another colour.  This card is replaced on the deck and the backs of the entire deck magically change to the new colour.
Through – this is a bonus effect.  A selected card sandwiched between 2 other cards vanishes and reappears underneath the cellophane wrap of the card box.  This card is slid out and again sandwiched between the 2 cards.  Its back now changes colour.  It is sandwiched one more time between the 2 cards.  This time, it vanishes and reappears inside the empty card box.
There are tips on how to handle and maintain the gimmicked card.  Jordan Victoria also shows you how to make the vanished card reappear between 2 other cards.
There are ample applications for Unlink shown in the DVD that will spur you on to discover your own uses for this versatile gimmicked card.
Please support intellectual property. Only buy original. Available from all reputable Murphy's Magic dealers.
[usr 8][/vc_column_text][/vc_column][vc_column width="1/3″][vc_column_text]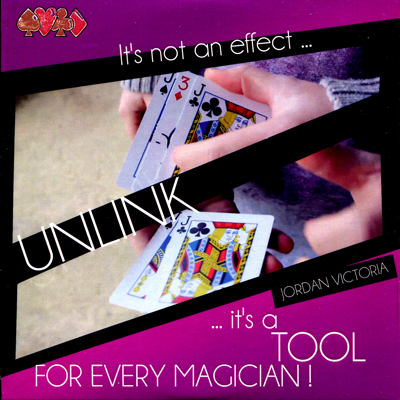 [/vc_column_text][vc_column_text]
[/vc_column_text][vc_widget_sidebar sidebar_id="gp-standard-sidebar"][/vc_column][/vc_row]