[vc_row][vc_column width="2/3″][vc_custom_heading text="Reviewer: Harapan Ong"][vc_column_text]Let's just say that Rick Merrill's At the Table Live lecture series was a rather surprising one. Sometimes the surprise was good, but at times it left me slightly disappointed. However, overall I think the lecture is worth a watch for those interested in his award winning Sharpie-and-coin act, and for those looking for interesting anecdotes and tips about working as a professional magician.
It's probably no surprise that Rick Merrill's lecture was going to begin with his now famous FISM winning act – in fact the lecture started with an amusing sketch of Rick acting like a diva, making unreasonable demands for Mountain Dew and Jerry's Nuggets decks in his dressing room while refusing to be on camera without his FISM award. Watching his eye-popping Sharpie and coin manipulation routine was certainly a treat – some of those Sharpie vanishes certainly fooled me. However, what made the routine really great was how Rick managed to fuse his routine with his character of a nervous performer who was homeschooled as a child. That unassuming and shy personality fits in perfectly with the simplicity of the Sharpie and coin used. It causes the audience to let their guard down, only to be hit by a flurry of visual, knuckle-busting eye-candy.
Unfortunately, that seems to be the best part of the lecture. Essentially, a large portion of the rest of the lecture is then focused on Rick's experiences and tips as a restaurant magician before he won his FISM award. Rick goes into performing and explaining some card tricks that don't seem to be particularly novel or interesting, even if you are a working magician who performs regularly at restaurants – I cannot imagine someone finding something new that is not already in their own professional repertoire. However, during the performance and explanation sections of these tricks, you can tell that Rick has a genuine passion for magic and is also well-versed with the community – he often drops some inside jokes that only magicians would get. Rick is also evidently very knowledgeable about his sources and his history of the moves and routines that his magic is based on, which is fantastic. I guess if you are a working magician, the most useful parts would be listening to his various amusing and sometimes helpful anecdotes about his experiences working as a young restaurant magician – but for me, I was really hoping he could spend more time talking about his award winning FISM act and his creative path to crafting that routine, as that is what he is most famous for.
Rick also goes into performing and explaining a coin routine called Three Change, in which three silver coins magically change into three different coins, which then change back. I'm not much of a coin magician, but based on the lengthy and technical explanation, it seems like a routine suitable for the coin magician looking for something difficult and challenging to play with and practice. The use of coin gimmicks in the routine is rather smart – however, while watching the performance, I can't help but feel that the routine has too many awkward moments due to the handling of the gimmicks.
Rick ends the lecture with an explanation of his FISM act, which picked up the pace of the lecture again. The various techniques and sleights used in the routine will be of interest to all magicians – do look out for those amazing Sharpie vanishes. However, he does not explain the full act – there are some sections of his FISM act which he politely declines to explain.
In conclusion, I would recommend this lecture to those interested in his work on coins and his FISM act specifically. His tips on restaurant work and the card routines he presented don't appeal to me as much, although I guess some people may find them useful.
Magic is our passion but we are not a magic shop 
 You can purchase this here!
[usr 6][/vc_column_text][/vc_column][vc_column width="1/3″][vc_column_text]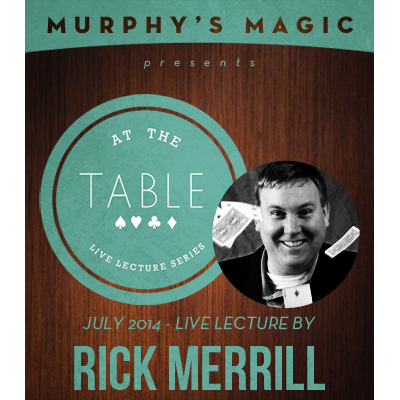 [/vc_column_text][vc_column_text]
[/vc_column_text][vc_widget_sidebar sidebar_id="gp-standard-sidebar"][/vc_column][/vc_row]