[vc_row][vc_column width="2/3″][vc_custom_heading text="Reviewer: Michael Siegel"][vc_column_text]Awe Struck is a spanking, brand new release from Adam W. Elbaum.  Adam who? Before you start Googling his name, this is his first magic release. Fear not. He has been performing Awe Struck for more than 10 years. This effect and routine has been honed by many years of professional performances, and the wallet has been designed from the ground up. But before I talk about the wallet that comes with the nicely packaged outfit, let me briefly sate what the routine is.
You're in the mall and you go over to a group of good looking gals or guys and ask them to think of any playing card. You tell by their expression that they are confused and a bit annoyed, "Oh no, a magician is going to find the chosen card in his mouth or on the ceiling. Let's call security and run for it." Before they do, you tell them that before she/he tells you what card is selected, you had a dream the other night…no not that dream…about a card that this young gal or guy selected and that you wrote it down on a post-it note and stuck it inside your wallet. Now that they realized you are a mentalist and they have all calmed down, they are ready to see some mesmerizing mentalism. The now excited participant tells you a random, freely thought of card such as the 4 of diamonds. You show your participant a pack of cards and tell her/him that she/he could have selected any of these cards but chose the 4 of diamonds, which you duly show them in your fanciest outjog move. You then reach in your back pocket and pull out your wallet. You open it up and inside the wallet is a post-it note with the 4 of diamonds written on it in pen. After the screaming subsides, you can give her/him the post-it note to keep to remember this amazing moment that happened to her/him in the mall.
Let me cut to the chase. This is a freakin' great trick. There are many predictions effects involving playing cards and card to wallets. This is the first time I have ever seen a post-it note prediction inside a wallet. If this does not get you a phone number from a girl or guy I don't know what will. (However, please remember you are here to entertain people, not to get dates. Use your power wisely.) Yes, my friends, this is what we call in the biz as a closer.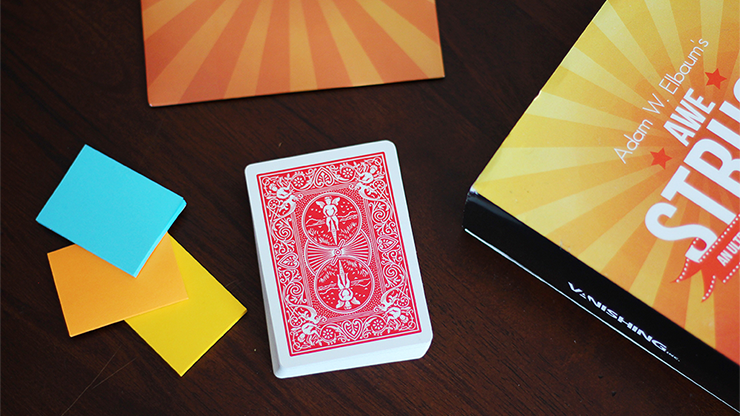 The effect comes to you very nicely packaged. Inside the tidy white box is a pack of small sized post-it notes, a deck of playing cards, the instructional DVD , … and a beautiful soft leather wallet. The wallet was specially made for this effect. It is gimmicked in a way that no one would ever see or suspect. It has 5 slots for your credit cards, business cards, driver's license and a separate slot for your money. It can and should be used as your everyday wallet.
The DVD is nothing fancy. It shows a studio performance and the set up and how to perform the effect along with some tips. I have a few complaints about the DVD. First, it does not have a real world performance. It should have shown a real performance to see how it plays in real life and the timing. The studio performance is fine, but I always like to see a performance in the streets for real people. Second, you do need to know how to palm a card for this effect. Sorry kids, you do need to do some work. Magic does not happen by itself. The DVD does instruct you how to do two different palms, but it is not meant to be a comprehensive tutorial on palming. It is sufficient to get the job done. If you want further tutorial on palming cards, there are numerous books and videos that you can search for. But I think what is contained in the DVD will be sufficient for most beginners and certainly for intermediate and advanced card magicians. Since there is no heat on the playing cards and there is built in misdirection, the move that needs to be done will fly by the spectators so he palm does not have to be that perfect. One palm however that he shows does need to be perfect, while the other one, the main one that he recommends to use, does not.
Now, back to the wallet. Yes. It is beautifully made. However, in the DVD Adam does suggest that you make a very quick easy to do modification to the wallet in order to make the trick easier to do. Without doing the simple modification that will take about 5 minutes to complete, you might have difficulty performing the effect smoothly and correctly. While he states it is not necessary, I feel it is. I would have liked for the wallet to have already contained this modification especially since this wallet was made from the ground up specifically for this effect and there are many card to wallets that already have their own unique modifications built into the wallet already.
It does come with a deck of playing cards. You should be aware that you must use this particular deck. It is not gimmicked, but it uses a deck with a special design needed for this effect to be accomplished. I did pick up some extra decks from Penguin Magic. Vanishing Inc. will probably be selling replacement decks in the near future.  That being said, the playing cards it came with should last for a very, very long time with normal use. Once set up, you cannot use this deck of cards for any other card effect prior to or immediately after you perform Awe Struck. So if you do need to perform another card effect, you will have to carry and use another deck.
If you do strolling magic, you should keep in mind that you have to carry on you the special wallet, the special deck of cards, and a small pack of post-it notes.
Overall it is a terrific effect and a great first release by Adam..what's his name?…oh yes… Adam W.  Elbaum. You will leave your audience "Awe Struck" after performing this effect. 8 out of 10 lucky charms since you have to do a simple modification to perform this terrific effect more smoothly.
Magic is our passion but we are not a magic shop 
 You can purchase this here!
[usr 8][/vc_column_text][/vc_column][vc_column width="1/3″][vc_column_text]
[/vc_column_text][vc_column_text]
[/vc_column_text][vc_widget_sidebar sidebar_id="gp-standard-sidebar"][/vc_column][/vc_row]