[vc_row][vc_column width="2/3″][vc_custom_heading text="Reviewer: John Teo"][vc_column_text]"Everlasting Sponge Balls" should be more appropriately named "Everlasting Sponge Balls From Mouth".  This is because the mouth is where the seemingly inexhaustible supply of sponge balls appear to come out from.
Most performers are also familiar with another version of this effect – it is called "Multiplying Bananas".  This is where a banana held in one hand is taken away by the other hand to dispose into a container.  The moment the banana is taken away, another one magically appears in that hand.  The empty hand now comes back and takes away another banana – once again, another banana appears.  The banana seems to be inexhaustible.  This can go on for as long as you want.  There is a big difference between this "Multiplying Bananas" and "Everlasting Sponge Balls", and it is where the source of the multiplication appears to come from.
Unlike the multiplying bananas, the source of the everlasting sponge balls is the performer's mouth.  Many shy away from performing tricks that involve them putting items into or removing them from their mouth.  Hygiene is the main reason.  Performers also feel this is rude or even disgusting.  You certainly do not want small children to want to emulate you and start to put things into their mouths.  Often, their parents, or if performing in a school, their teachers, will also be present at the magic performance.    
If this is you, then this effect will not be for you.  However, Eric Leclerc actually makes use of this so-called "unhygienic factor" to create fun and laughter!  "Everlasting Sponge Balls" is sponge balls coming out from your mouth!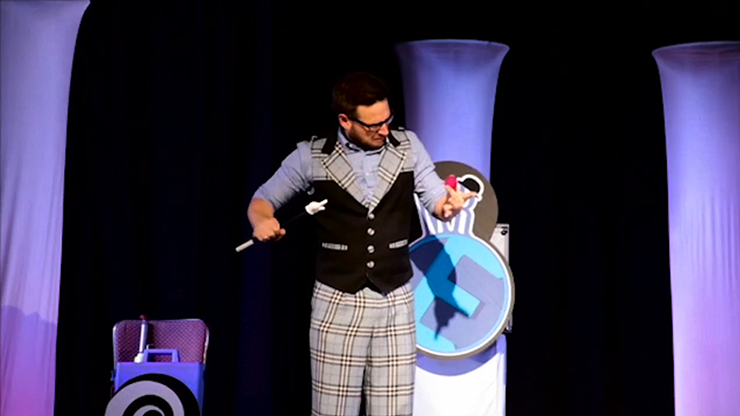 In Eric Leclerc's routine, the performer picks up his magic wand.  He realizes that at one end of the wand is a pointing finger.  The sight of this wand causes smiles from the audience.  The wand starts to have a life of its own.  It points to the performer's mouth.  The performer discovers that he has a sponge ball in his mouth.  He takes this out of his mouth and disposes it in a container.  The wand points to his mouth again.  Another ball is taken out of his mouth and deposited into the container.
As variations, instead of placing the ball into the container, the performer places it into one of his ears or one of his nostrils – the ball vanishes and reappears from his mouth.  He places the ball onto his buttocks – it disappears and comes out from his mouth.  Then, one of the red balls becomes green.  Finally, a black colour ball is produced from the performer's buttocks.  This is the basic routine – you can vary the sequence in any way you wish.
With the sponge balls in the performer's mouth, it is difficult for him to talk – he can only mumble.  This adds to the fun and laughter as the performer struggles to say something.  It is all part of the fun routine.  Because the performer cannot talk properly, his actions and body language play a huge part in the routine.
Words cannot do justice for this routine – you need to watch the trailer to get an idea of how much fun you can get from the audience with "Everlasting Sponge Balls".  
You receive the following in a package: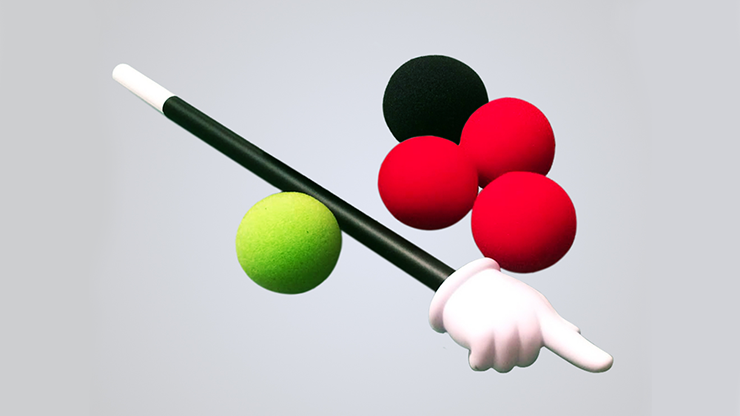 A 14" wand with a pointing finger at one end – this funny wand can be used in your other performances

3 x 2" red sponge balls

1 x 2" green sponge ball

1 x 2" black sponge ball

Password to an online video instruction
In the video, Eric teaches you how to perform the retention-of-mouth vanish for the sponge balls, and a technique of secretly loading the sponge balls into your mouth.  Both of them are quite deceptive.  The audience will have no idea at all how the balls can keep on coming out of your mouth at the different points in your routine.
In the video, Eric ends his routine with the production of a large black ball from his buttocks.  What you receive in the package is a 2" black ball – the same size as with the other red and green balls – it is not a large ball.  Perhaps, the larger size black ball is now no longer in production.
Eric includes an impactful ending contributed by Joshua Jay.  Joshua ends his children routine by producing the final ball from a spectator's mouth!  This person can be a parent or a teacher in a school.
As mentioned earlier, if you do not shirk away from takings things out of your mouth, and it is in your persona to act silly and ridiculous to make your act hilarious to your audience, "Everlasting Sponge Balls" is recommended for you.
Magic is our passion but we are not a magic shop ? You can purchase this here!
[usr=9][/vc_column_text][/vc_column][vc_column width="1/3″][vc_column_text]
[/vc_column_text][vc_widget_sidebar sidebar_id="gp-standard-sidebar"][/vc_column][/vc_row]