[vc_row][vc_column width="2/3″][vc_custom_heading text="Reviewer: Madame Curator" font_container="tag:h3|text_align:left"][vc_column_text]Contemporary Spanish magician, G Alexander, has brought us a brilliant 21st century card-on-a-rope effect with his ingenious Fishing!
Instead of using the traditional prop of white magician's rope, Señor Alexander has come up with a modern approach to the classic in magic… using the seemingly innocuous earphones that magically wraps itself over your spectator's chosen card.
The package includes everything you need to pull off the visual effect – you just need to provide your own cards or whatever objects you want to perform these modern day miracles with (different coloured Sharpie markers, balls, CDs, etc).
Yes, obviously a force is involved. So you'll need a duplicate item too. But I'm very happy with what I received in the mail. The earphones included are your typical white ones that seem like they came from your iPhone boxset. Very innocent, very normal.
The gimmicks for Fishing are very well made and should last a very long time, unless you're a careless performer (I'm sure you've also met quite a number) who can be a tad disrespectful or sloppy in the storage and general upkeep of your magic props.
There is no DVD or instruction sheet in the small box package. What you do get, is a card with the video link and secret code for viewing. As I was waiting for the full instructional video to load, I was a bit surprised and slightly apprehensive that it was only about 6 minutes long. But trust me, it was shot beautifully and concisely – it is all you need.
A well-produced video with good clarity like this is what I much prefer, than compared to a long instructional video where the magic creator rambles on forever unscripted on a badly lit homemade video.
In this short and sweet clip, G Alexander performs to the camera and explains the mechanics and workings of Fishing in his video. He speaks no English but it is not necessary; everything is clearly shot and very easily understood. There is no audience performance clip however, but I don't think it is really needed.
Trying it out right after watching the short video, I liked Fishing even more. You need to practice for sure, but it is not complex and overall I think it is a worthy investment. You can perform it anytime, anywhere, as long as you've got your bag prepared.
I really think Fishing is ideal for the modern day conjurer; the savvy guy or gal who is comfortable performing in jeans while showing off their wicked cardistry moves between effects, swapping out your flashy Beats by Dr Dre headphones for this special set of magic earphones around your neck.
If you're an old-school kind of magician who still relishes the traditional classics like cups and balls, linking rings and the floating cane… it would be a good bet that this wouldn't be your cuppa tea. But for the rest of us, I think this contemporary effect is a keeper.
Magic is our passion but we are not a magic shop 
 You can purchase this here!
[usr 7.5][/vc_column_text][vc_separator][vc_custom_heading text="Reviewer: Bernard Sim"][vc_column_text]Those who are in magic long enough will know of the card on rope trick. This effect is the same except that this has been modernised to suit the times. The basic effect is , selected card is tossed into a bag together with the rest of the deck. A set of wired earphones is then dipped into the bag and the selected card is found tied to the cords of the earphones.
I'm not head over heels in love with this but find this effect likeable. There is a set up prior to performing this effect. Once you are set up, there should not be sudden movement to your bag as it will affect the setup. The gimmick is really cool and it works really well too, so you don't have to worry about struggling to "fish" for the selected card.
Password protected video instructions is online and is only about 6 mins long. But this short video is enough to make you understand how to set up and perform. You'd need to know how to force a card as this is not taught in the video. Various objects like sponge ball, sharpie are also introduced as possible performing items. However, do note that there are no instructions on what to do with these additional items. Yeah, "the possibilities are endless", this sentence seems to be favoured by magic inventors. I don't think there is anything in magic whereby the possibilities are endless. If you want to introduce other objects, at least let buyers now what you can do with that object.  Anyway, even if you use other objects, it will still be the same as fishing, i.e. select one, lose it and find it.
The downside of this as compared with original card on rope routine is that after you perform with the rope, you are "clean" as there won't be anything in the bag. Fishing won't be clean at the end (I'm referring to the bag) as part of the gimmick will be left inside. But then again, these are just minute points and are almost negligible if you don't intend to show the bag.
Overall, I think this effect is ok. The gimmick is great (I'm a sucker for clever gimmicks) but the effect is not spectacular. At US$49.95, the price is a tad expensive for such a mediocre effect, but you are paying for the gimmick which is top notch.
I can't say I do or do not recommend this as I have mixed feelings for it. I like the gimmick but not the effect. If you like the old card on rope trick, get this. Otherwise, I think you can probably spend this money on something more useful.
[usr 6]
P.S  I still think the gimmick is cool (did I repeat again?)[/vc_column_text][/vc_column][vc_column width="1/3″][vc_column_text]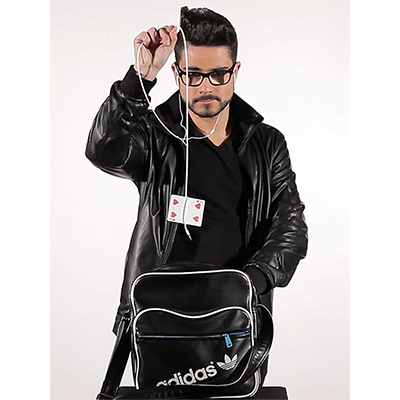 [/vc_column_text][vc_column_text]
[/vc_column_text][vc_widget_sidebar sidebar_id="gp-standard-sidebar"][/vc_column][/vc_row]