[vc_row css=".vc_custom_1407855744612{margin-bottom: 0px !important;}"][vc_column width="7/12″ css=".vc_custom_1407855616904{margin-bottom: 0px !important;}"][vc_custom_heading text="Reviewer: Bernard Sim"][vc_column_text]
C3 by Nojima
Effect:
Color change of a card that is sandwiched between two other cards.
Product description:
Straight forward production description but I doubt anyone will be reading the description as the video demo is the one that sells this.
Method:
Let me tell you, the Japanese are crazy people. Crazily good at what they do. Most of their stuffs are released in their own country and only lately, we can see some Japanese magicians releasing their materials into outside of Japan. Most the their stuffs looks really beautiful but unfortunately, beautiful comes with a price…..hard work.
In this DVD, it teaches you one color change which may be used in 9 of his other routines. I don't think you'd want to do his routines in one set as it all involve in one color change, your spectator wouldn't want to see the same move done over and over again.
The color change is done with one hand and there are no apparent finger movements during the change. It looks like pure elegant magic. I have no idea how it was done until I saw the explanation. If you want to learn this, be prepare to invest your time and effort (lots of it) to perfect it.  There are no gimmicks involved and it is purely sleight of hand.
Quality:
The DVD only has background music playing and the text explanation is at the bottom of the screen. It comes in Japanese and English text. Everything is explained clearly; where to place the cards, where to place the fingers etc and they even show you what is wrong and how to avoid it.  You will have no problem learning for this DVD as long as you put in effort.
Pricing:
This is the standard price for a DVD and I think it is worth it.
Verdict:
This is insane stuff, I wish I can do it but I also know that I would not spend my time on practising it. Well, there are no short cuts for this. Not my kind of stuff but I do appreciate such magic and I'd love to see someone do this live for me.
This is the stuff that people should do but I also know that a lot of people will not do it due to the technical requirements. If you can do this, you will probably be one of the few who can do this.
Recommended if you are not afraid of hard work.
[usr 8.5][/vc_column_text][vc_separator][vc_custom_heading text="Reviewer: Madame Curator"][vc_column_text]
Nobuyuki Nojima, the incredibly talented Japanese magician in the above featured video, has released his well-made instructional DVD, C3 by Nojima, sharing on his radical color change technique that only uses sleight-of-hand… that's right, no gimmicks, buddy!
With the cards face up, the change happens so visually and there are absolutely no dodgy moves – check out his demo video above. It's all done with just one hand. Yes, I know what you're thinking. That young man is a modern day magic ninja!
The instructional DVD is clear and concise, which builds up from Nojima's basic move, before leading towards the different variations that you can effectively utilise for many card classic favourites like the Oil and Water routine, 3 Card Monte, The Homing Card, besides colour changes, card revelations and more.
What I appreciated was that the well-produced DVD was clearly thought out and filmed with the different angles and important finger placements in great detail. The English subtitles are more than adequate and nine routines are taught by Nojima in his very fairly priced DVD.
Having said that, much onus falls in your hands since these diabolical sleights need much time and practice to achieve mastery. Just like the muscle pass, there are no short cuts and you will have to dedicate yourself to the art.
I regard Nojima as quite the magic genius and I look forward to more products from him.
Please support intellectual property. Only buy original. Available from all reputable Murphy's Magic dealers.
[usr 9][/vc_column_text][vc_empty_space height="40px"][/vc_column][vc_column width="5/12″][vc_column_text]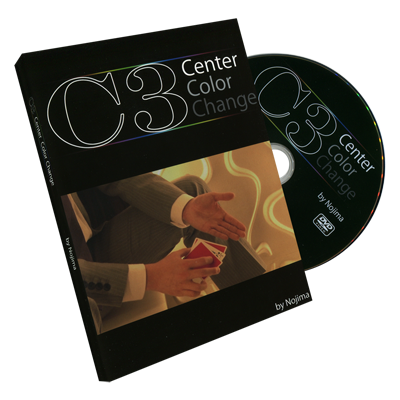 [/vc_column_text][vc_column_text]
[/vc_column_text][vc_widget_sidebar sidebar_id="gp-standard-sidebar"][/vc_column][vc_column][/vc_column][/vc_row]