[vc_row][vc_column width="2/3″][vc_custom_heading text="Reviewer: Bernard Sim"][vc_column_text]When was the last time you read a new review of an old item? Probably a loooong time ago as people are more interested in modern stuff. Anyway, here is a review of a parlour item. While the name may not sound exciting, the effect is actually not bad.
Let's start by looking at the photo of this item.
Remember the person who posted a photo of a kettle on ebay? He was shooting it in his birthday suit and the reflection shows all. Nah, I'm not like him. (Editor: Thank God! 😛 ) The kettle is pretty small in size and the Rubic's cube is there for size comparison. The kettle looks pretty good.
Here's from another angle:
So, the basic effect is, you pour water from the kettle into 5 glasses and the all turns out to be of different colour. Upon opening the kettle, you produce 5 DRY silks out. The 5 different coloured water is then poured backed into the kettle and then finally the kettle pours out the mixed colour water which magically changes into clear water.
While I was reading the effect and looking at the kettle, I was thinking how can this be achieved without all those special chemicals which was not provided. Do I have to go and hunt for the extra items? Upon reading further, I was simply thinking too much. The kettle does all the work for you. Having said that, you are required to provide your own glasses and something which is easily available in a supermarket.
The kettle is well built but it could've been better if the handle is covered because the edges are quite sharp on the handle.
The effect is strong and has a kicker ending. I think this will be a very good effect for the young and old. If you are doing birthdays, this would really entertain your spectators.
Rating:  9/10. Recommended.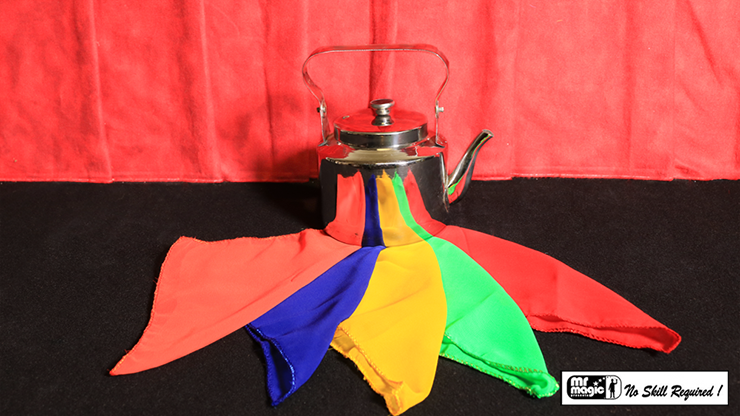 Magic is our passion but we are not a magic shop ? You can purchase this here!
[usr=9][/vc_column_text][/vc_column][vc_column width="1/3″][vc_column_text]
[/vc_column_text][vc_widget_sidebar sidebar_id="gp-standard-sidebar"][/vc_column][/vc_row]