[vc_row][vc_column width="2/3″][vc_custom_heading text="Reviewer: Mark Wong" font_container="tag:h3|text_align:left"][vc_column_text]Mixed perception is a triumph styled effect using only 6 cards with 3 climaxes. I have never really been a fan of packet tricks because I have always found it weird to introduce a small stack of playing cards to any spectator. This release however, makes the introduction of the cards very natural.
From the point of view of the spectator, they get to freely select 6 random cards from a full deck, and then from there, the performer shuffles those cards and lets the spectator select one. The performer then shuffles the cards and mixes them face up and face down. Till the very last moment, the spectator sees that the cards are mixed up and down. With just a snap and no funny moves, the performer shows that all the cards are now facing down except for one card that is facing up – their selected card. As an extra kicker, the card is the only different backed card among all the rest. And to top that all off, all the other cards are now blank.
I think that looks and feels extremely fair, and I definitely like it. What you get in the package is 6 gimmicked cards and also a small instructional "booklet". For those that prefer learning through videos, there is also a password protected video link (16mins) included in the booklet.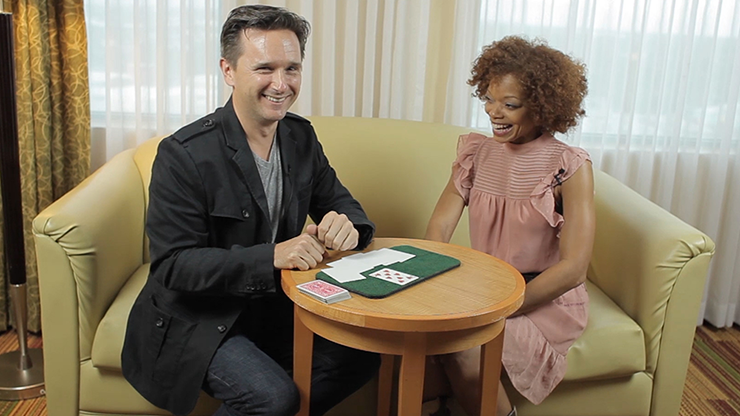 Mixed perception is incredibly easy to do, and it is almost sleightless – if you know how to get a break (which I'm sure you know how to if you are reading this), then you will have no issues with this at all.
Due to the nature of the gimmicks, not all the cards can be handed out for inspection. Utilizing a switch can solve this. If you wish to use a different back design for the reveal, you can do so by providing a card from a different deck. The effect will still run as per normal.
While I really love how this release is short, simple and strong, I feel that as with most other releases with gimmicks, if you think that your spectators are prone to grabbing, some audience management is required. If you are not confident of your audience management skills, be warned that if they grab at the cards you display on the table for the final ending, you run the risk of exposure.
At only $25 dollars, I think this is a nice buy for anyone who does strolling, close up, or is simply a hobbyist eager to learn more about this plot! Mixed Perception gets a solid 9/10.
Magic is our passion but we are not a magic shop ? You can purchase this here!
[usr=9][/vc_column_text][/vc_column][vc_column width="1/3″][vc_column_text]
[/vc_column_text][vc_widget_sidebar sidebar_id="gp-standard-sidebar"][/vc_column][/vc_row]