[vc_row][vc_column width="2/3″][vc_custom_heading text="Reviewer: John Teo" font_container="tag:h3|text_align:left"][vc_column_text]Who is Allan Zola Kronzek, and what is this book all about?
Allan is an educator. He has developed 3 programs on the science and art of magic, and the world of Harry Potter. These programs have been very popular in schools, colleges and libraries.
He is also an author and has written 4 books: one on magic for kids, one on a guide to Harry Potter, the third is on the game of Poker, and the fourth is a book for magicians. This last book contains 4 close-up effects. These 4 effects have been updated and are included in this book "Artful Deceptions".
In the Introduction to his book, Allan set our expectations to what types of tricks are offered inside. He confessed to liking efffects that have a theatrical presentation, so that the audience can be hooked emotionally to the tricks. He also favour tricks where the audience can handle most of the props, such as playing cards, themselves, so that magic literally happens in their hands.
Allan includes his actual patter in each routine. You do not have to follow exactly his patter as your performing style may be different, but the patter does set the primise for each trick.
There are 9 effects in the book. The last effect is not a trick, it is a patter for a bill switch. The other 8 effects are card tricks.
The 9 effects are:
Playing With The Jokers

– the 2 Jokers, not the performer, find a selected card between them. They do it again with a different chosen card, this time in the spectator's hands. Finally, each of the Jokers is able to reveal another 2 selections from the audience. A very good opening effect.

The Mirror

– the classic self-working "do-as-I-do" effect using 2 decks is given a theatrical presentation involving refelctions and reality in the mirror. It also uses 2 drinking glasses. This brings it to a whole new level of mystery that effectively hides the method employed. Shades of Robert Neale-type presentation here.

True Romance

– a romantic presentation for Karl Fulves' "Gemini Twinbs" effect using the OC/DC move.

Strange Attraction

– a short revelation of 2 selected cards, using the "Prophesy" move. Nothing important to learn here, except that the OC/DC move is a useful control used here.

Buried Treasurer

– this is Dai Vernon's "Why Am I Here?" effect given a buried treasure touch, complete with a real compass! A shuffled deck becomes the map, and the spectator deals the cards depending on the value shown on certain cards, and discover the selected card (buried treasure) himself.

Think Of One

– a spectator merely thinks of a card and the performer not only divines it, but also able to tell which of 3 portions of the deck contains the thought-of card.

Texting The Visitor

– a 2-phase effect based on Larry Jenning's "The Visitor" in which a card sandwiched between 2 red Queens gets telported to the middle of 2 black Queens, and then back again. The entire effect is made more entertaining by disguising it as sending and receiving a texted message.

Destiny, Chance And Free Will

– destiny or chance has always been a hot debating topic. Add to this the element of free will, and you have a mysterious premise in which a spectator shuffles and then eliminates cards only to arrive at ther own selected card, with an unexpecting and comedy ending.

Hypnotising Ben

– a hilarious patter for a bill switch using bills that feature the portraits of prominent leaders of the country. Using a little creative thinking, you can tweak the patter to suit currencies that do not carry portraits of people.
This book is more about the art rather than the techniques of performing magic. Although the 8 card effects are variations of known card tricks, Allan shows how to structure each effect in order to achieve drama and theatre in the presentation so as to engage the individual spectators and make the effect memorable to them.
With regards to card techniques such as card controls and moves, Allan is no slough either. He uses side steal, card cull, Marlo's OC/DC control, 'Erdnase's colour change, and top change in his tricks.
This is a nicely produced book comprising only 94 pages but with stiff black covers and an attractive narrow book sleeve. It is book you will be proud to own and display in your bookself. Most importantly, it will help you to rethink the way you currently present your magic.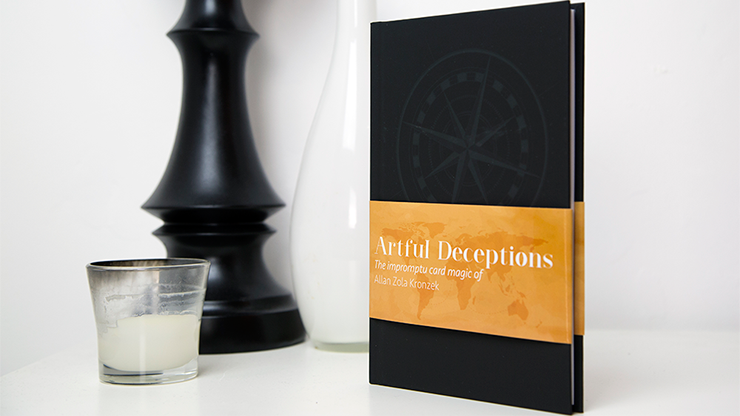 Magic is our passion but we are not a magic shop ? You can purchase this here!
[usr=8][/vc_column_text][/vc_column][vc_column width="1/3″][vc_column_text]
[/vc_column_text][vc_widget_sidebar sidebar_id="gp-standard-sidebar"][/vc_column][/vc_row]