[vc_row][vc_column width="2/3″][vc_custom_heading text="Reviewer: Madame Curator" font_container="tag:h3|text_align:left"][vc_column_text]Most people are familiar with my work as Magic Babe and have seen me doing street magic on TV, wicked escapes and illusions at festivals and gigs with over 12,000 in the audience… But the truth is, mentalism is my greatest love.
On 7 January 2012, I was involved in Mind Heist, where JC and I successfully set the world record for reading 100 minds in 60 minutes. Broadcast online LIVE, the never-done-before feat involved members of the public and journalists. News reporters covered the show and we were featured on prime time news.
I consider mentalism to be the genre that requires the most sophisticated sleight of mind and sleight of mouth. Some of sleight of hand is necessary too, despite what some cardistry purists may say. Mentalism is something you will get better in when you're older, when you have much more experience in life, as well as, in the knowledge of audience management and psychology.
The classic nail writer or swami gimmick or thumb/ boon writer, is probably the working mentalist's everyday BFF. Coming in a variety of forms from Sharpie markers to its more traditional forms and then some, the secret writer is a highly indispensable gem that is here to stay.
Its latest incarnation comes in the form of the Freedom Writer by Mark Allen, from reputable magic producer, Paul Harris. Priced at US$60, the package arrived in a basic white cardboard box generously filled with everything that you'd need to start performing.
Besides the well-made custom crafted gimmick using mechanical pencil lead, you also receive writing materials, a special plastic case, lots of envelopes, extra refills, a shim and the password to the online tutorial from Murphy's Magic. As with anything produced by Paul Harris, the 56 minute long instructional video has 17 very thorough chapters and is professionally produced and made with pride.
The USP of Mark Allen's Freedom Writer is that your hands are free from dodgy moves and it is quite the brilliant secret writing device really. Because it can be done so openly, you can cleanly show your hands empty – no jazz hands please, and don't flash your hands too often also; one shouldn't run when they're not being chased- I do very much like the fact that your hands are completely clean when you work the envelope or post-it note (another variation taught) for the reveal. No fear of the audience catching a glimpse of your secret assistant or having it fall off!
Taking time to play around with the Freedom Writer after watching the online tutorial, I honestly think that with more practice, you will get a better sense of control for a clearer impression. With practical motivation for its use, Freedom Writer is a clever concept that you can use it anywhere, anytime, and reset instantly.
I like that refills are not an issue, unlike the ink ones which have a tendency to get super messy, and the device is pretty much a self-contained unit. For its price and the boxful of goodies you receive in the Freedom Writer kit (besides a stellar instructional video), I'd say it's a good buy especially if you're relatively new to this and do not yet own a secret writing device.
If you are a mentalist who already has a regular secret writer that you always use, you may find the Freedom Writer more complicated than your straightforward boon or nail writer. Quite like how Michael Ammar made his point using a red thumb-tip to show how it's really mostly about the performer and not the tools, you may prefer to stick to traditional methods.
However… if you're like me, ever curious about the ongoing evolution of magic, I think this innovative secret writer is worth a check out unless you're one of those "if it ain't broke, don't fix it" kind of guy. Freedom Writer is obviously birthed by brilliant creative minds and I appreciate its genius, but I do recognise that at the end of the day, it's different strokes for different folks 😉
Please support intellectual property. Only buy original. Available from all reputable Murphy's Magic dealers.
[usr 8][/vc_column_text][vc_separator][vc_custom_heading text="Reviewer: John Teo"][vc_column_text]The Nail Writer has allowed magicians to perform a most direct and clean prediction effect.
For well over a century, this traditional writing device has undergone a couple of transformations to the Swami and Boon writers.  Now, with Mark Allen's Freedom Writer comes a new breed of thumb writer.  As the name suggests, you get total freedom because this writer does not attach itself to your thumb, finger or hand.  This is the main difference between the Freedom Writer and all its predecessors.  This opens up a whole new world of thumb writing.
This difference is of a great benefit to the performer – he no longer has to secretly ditch the writing device.  As with other things, this comes with a price.  Whatever you used to write your prediction on has to contain a certain something.  This may not be a major setback.  Take an example of a writing pad.  You can still tear off the first sheet and give the written prediction to a spectator.  Unfortunately, you cannot hand the entire pad to a spectator for examination.  But there may be no need for this.
There are also other benefits provided by the Freedom Writer.  Because of its special "skateboard" design, you do not accidentally write with it when the writer is on your thumb.  Changing the lead is also easy because you are supplied with a special lead changing tool.
The Freedom Writer is easily adaptable for use with envelopes, Post-It pads and wallet.  Your hosts, Brother Gilbert and Matthew Johnson, take you through 3 routines.  In the "Imaginary Coins" routine, the performer is able to predict the exact total value of a number of coins imagined by a spectator.  The prediction is written on a business card inside a small envelope.  Similarly, in the "Alphabet" effect, the performer predicts in advance one of the 26 alphabets named by a spectator.  In the "Arrow" routine, a spectator puts a paper clip randomly along any of the 4 sides of a square stack of Post-It pad.  When the pad is turned around, there is a drawn arrow pointing to the exact location of the clip.
You receive the following items:
A metal case with sliding lid that houses the Freedom Writer and a thin transparent cylindrical tube that contains 3 refill leads as well as the special lead changing tool
10 small black envelopes comprising 2 gimmicked envelopes ready to be used for performance, 2 regular and un-gimmicked envelopes, and 6 unglued gimmicked envelopes
Stack of blank prediction cards to be used with the black envelopes
Square piece of special gimmick
Black plastic reversible box for containing your small envelopes
You are also provided with a password for you to download the instructional video from the internet.
For what you get, it seems you like do not need to purchase any other items for a long time.  Good value and a versatile device.
[usr 10][/vc_column_text][/vc_column][vc_column width="1/3″][vc_column_text]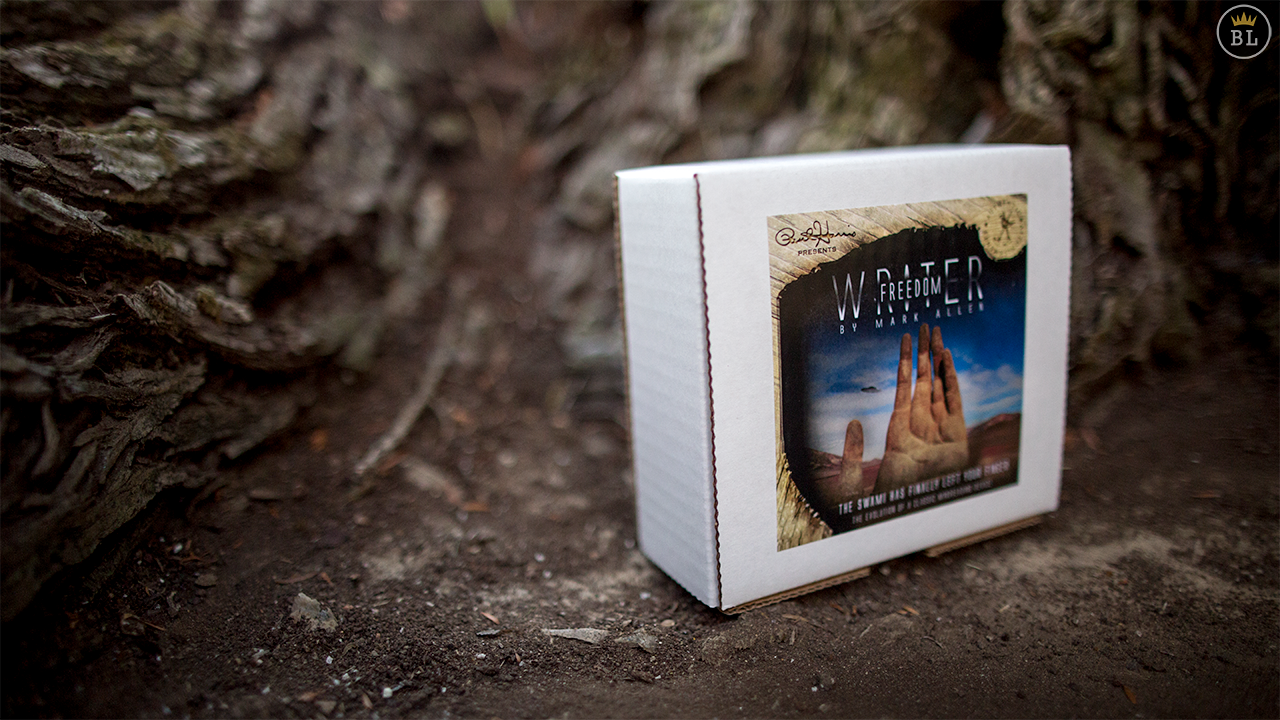 [/vc_column_text][vc_column_text]
[/vc_column_text][vc_widget_sidebar sidebar_id="gp-standard-sidebar"][/vc_column][/vc_row]