[vc_row][vc_column width="2/3″][vc_custom_heading text="Reviewer: John Teo"][vc_column_text]"Shuffled" is a Card At Any Number (ACAAN) effect.  In this version, the deck of cards can be thoroughly shuffled by the spectators, hence the name "Shuffled".
In actual performance, the performer brings out 2 prediction envelopes and places them conspicuously on the table.  A deck of cards is shuffled by the spectators.  It is then placed back inside the card box and held by another spectator.   
One of the envelopes is opened and inside it is a single playing card – let us assume it is the seven of hearts.  The other envelope contains a card with the number 19 printed on it.
The spectator with the card box takes out the cards and counts to the 19th card from the top of the deck.  The card at the 19th position is indeed the seven of hearts!
This is a straight-forward ACAAN effect.  However, the method, although it is very clever, is not so straight-forward.  It requires you to have a clear mind.  The creator, Jos Denys, puts in a number of subtleties to help you ease the mental efforts.  This is a very well thought-out product.
You receive a well produced DVD and the necessary gimmicks.  The materials supplied, especially the envelopes, are well manufactured.  You need to supply your own deck of cards.  The DVD has a practical and easily maneuverable menu.  The basic routine requires a table and is suitable for walk-about performances.  It is well taught and performed by Jos Denys himself.
Andy Gladwin teaches a street version where a table may not be readily available.  This version requires a "gimmick" deck which is easily obtainable from magic dealers.  It also needs only one prediction envelope.  The position in the deck is predicted while the actual card is freely chosen by a spectator.
If you like ACAAN effect where the deck can be throroughly shuffled by a specatator, you will want "Shuffled".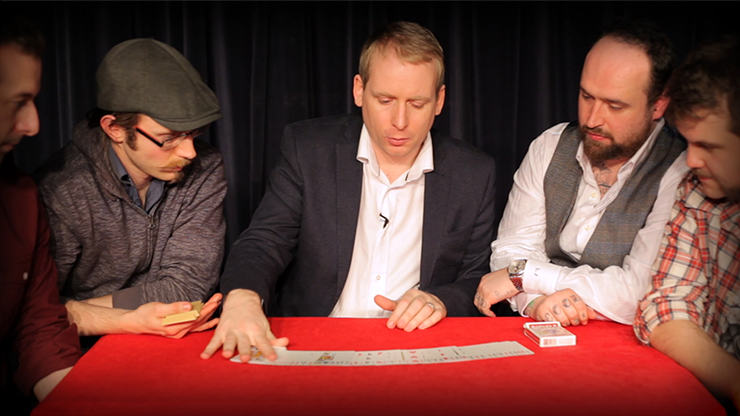 Magic is our passion but we are not a magic shop ? You can purchase this here!
[usr=9][/vc_column_text][/vc_column][vc_column width="1/3″][vc_column_text]
[/vc_column_text][vc_widget_sidebar sidebar_id="gp-standard-sidebar"][/vc_column][/vc_row]