[vc_row][vc_column width="2/3″][vc_custom_heading text="Reviewer: Bernard Sim"][vc_column_text]If you have attended FISM 2009 in Beijing, what was the most memorable thing for you? For me it was not Soma winning nor Shawn Farquhar winning, it was actually the many appearing canes that seems to be everywhere. Even the security guards were playing with it. Kids were playing with it, everyone that has US$1.50 to spare were playing with it. So what has it got to do with this review? Well, a similar thing happened here in Singapore.
There was a 2 day convention in Singapore and Silk Thru Phone was being sold at the convention. Immediately on the 1st night of the convention, my Facebook was flooded with magicians performing this effect. When I saw the first video, I thought it was pretty cool, then I saw another and another and another and another and…..well you get it, there was a lot of people posting videos of themselves performing this effect. I'm not saying this is a bad thing, but friends and friends of friends of these performers would have already saw this effect on video before they can watch it live. You can argue that there are still many whom may not have seen it, that may be true, but there are also many who have own it and have already perform it. Anyway, it's still a very visual trick and you can use a spectator's phone to perform.
The effect comes with a silk, a gimmick and an online video that seems to have been filmed using a phone's camera. Video and sound quality was poor and the video can be accessed via a QR code or a weblink which has no password protection. The instructions are pretty easy to understand and you'd have no problem learning this.
From my understanding, this effect is not original and the original effect "Fabric Through Pasteboard" by Masao Atsukawa can be found in Richard Kaufman's Five Times Five Japan. The book provides instructions on how to make the gimmick. Silk Thru Phone's gimmick is simple and effective. While I like the effect, I just wish that the creator should at least mention Fabric Through Pasteboard.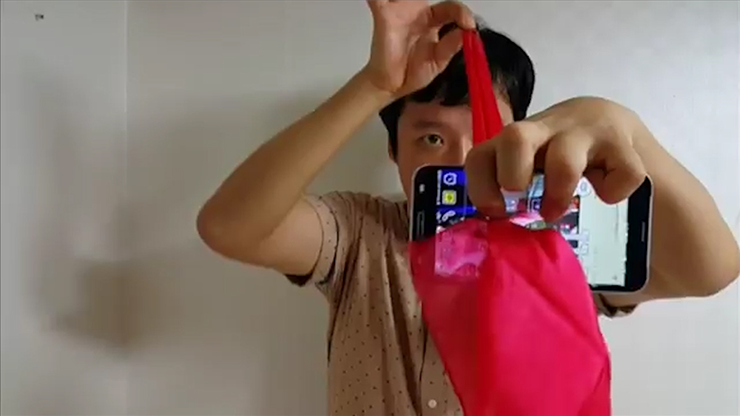 Magic is our passion but we are not a magic shop 
 You can purchase this here!
[usr=6][/vc_column_text][/vc_column][vc_column width="1/3″][vc_column_text]
[/vc_column_text][vc_widget_sidebar sidebar_id="gp-standard-sidebar"][/vc_column][/vc_row]