[vc_row][vc_column width="2/3″][vc_custom_heading text="Reviewer: John Teo"][vc_column_text]Sven Lee's Svenlopes have now become a classic resource for mentalism.
If you do not already know, they are a stack of envelopes specially manufactured using the Svengali principle to force an item.
In this effect, the Svenlopes are used with a set of movies posters.  A spectator freely cuts a stack of 24 envelopes, inside each envelope is a different miniature movie poster.  The cut-to envelope is set aside. Both the bottom and the upper envelopes of the cut-to envelope are opened to reveal a different movie poster each.  In other words, had to spectator cut the stack of envelopes one too few or one too many, she would have arrived at a different movie poster. Inside the cut-to envelope is, say, the Titanic movie poster.  This movie is predicted in advance by a prediction inside a prediction envelope placed to one side at the start of the effect.
The spectator is then asked to turn over the Titanic poster and silently choose one of the actors of the movie printed on the back of the poster.  The performer is able to divine the selected actor letter by letter.
You receive a total of 24 black 4 X 6 inches Svenlopes, one spare Svenlope, one prediction envelope, 6 poker sized multi-coloured envelopes, and 38 miniature movie posters.  The colourful movie posters are very well printed on glossy stiff art paper. Included is also a tough clear plastic transportation container.
The movie posters are only 3 X 4 inches.  Each of them is to be put inside a 4 X 6 inches Svenlope.  A larger sized poser of 3 X 5 inches would make a better fit for the Svenlopes.
The stack of black Svenlopes is an utility item.  You can download a pdf of 126 pages that gives 22 routines for use with these envelopes and an additional 10 routines for the 6 multi-coloured envelopes.
There are 2 other pdfs that can also be downloaded.  One is a 30-page pdf that gives you the detailed handlings of the Svenlopes.  The other is a 17-page pdf instructions showing you how to perform Svenlopes Hollywood.
You receive a massive amount of items.  They are all very well manufactured. The Svenlopes can be used in other effects.  Movies are popular with people. Magic using movie posters will never fail to entertain.  This is a good investment.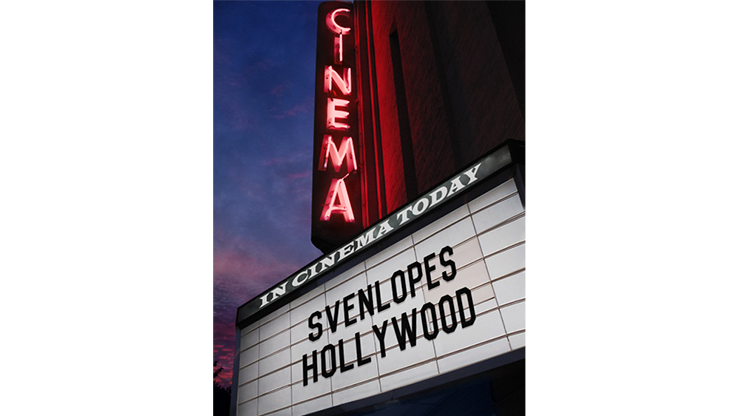 Magic is our passion but we are not a magic shop ? You can purchase this here!
[usr=8][/vc_column_text][/vc_column][vc_column width="1/3″][vc_column_text]
[/vc_column_text][vc_widget_sidebar sidebar_id="gp-standard-sidebar"][/vc_column][/vc_row]