[vc_row][vc_column width="2/3″][vc_custom_heading text="Reviewer: John Teo"][vc_column_text]$wap is a short and amazing effect performed with a US $1 bill.
The performer displays a stack of US $1 bills and draws the audience's attention to a (apparently) misprinted bill where the circular black "B" stamp and the circular green insignia are interchanged (ie printed in the wrong positions).  Nobody will notice this until the performer compares this "odd" bill with the rest of the US $1 bills in the stack.
Once the audience is made to appreciate the strange bill, the performer covers one of the stamp/insignia with his thumb, and drags across to the other stamp/insignia and the 2 stamp/insignia are seen to put right by performer!  He can show his hand to be empty, and the "corrected" bill is immediately handed out for examination!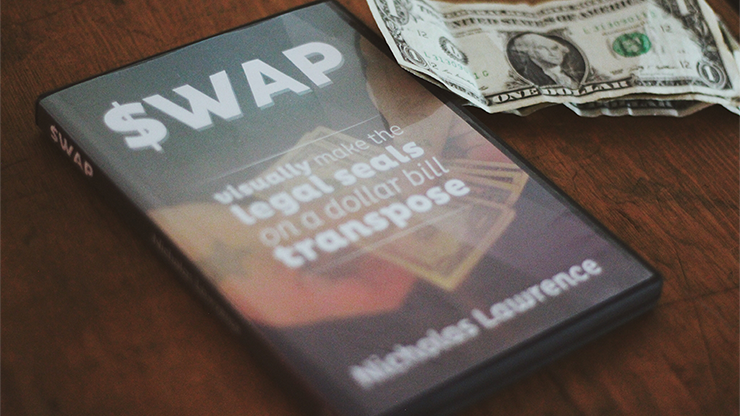 This is a fun, visual and amazing "righting the wrong" effect with a dollar bill.  It is easy to do, and the bill can be handed out immediately for examination.  The resetting is also quite fast.
You receive a well-produced instructional DVD and the necessary materials for you to construct your own gimmick.  The gimmick is easy to construct and is well taught in the DVD.  It is a matter of a couple of minutes' work and once constructed, you do not need any replacement after each performance.  You will need to use 2 other $1 bills in order to make the gimmick.  So you need an extra $2 to make the necessary gimmick.
Nicholas Lawrence also teaches you a longer routine.  Firstly, the performer visually transposes both the 2 stamp/insignia, and then just as visually, transposes them back to their original positions.
Once you understand the principle of how the gimmick works, you can adapt it to your own currency provided it has 2 symbols or designs that can similarly be transposed.  Otherwise, just carry a stack of US $1 bills to show this strange misprinted phenomenon and then use magic to right it!  After all, US $1 bills is internationally well known.
Nicholas also includes a bonus effect.  It is a pen through folded bill trick.  A bill is folded in half and a pen, which can be borrowed, is inserted into the fold.  The pen then visually penetrates through the fold of the bill.  Again, the bill can be handed out for examination.  This is a new method pen through bill and is also easy to do.
$wap, by itself, is an effect you will carry in your wallet and will truly enjoy performing it to any audience.  The transposition of the 2 symbols is something new and weird and the actual bill can be handed out for examination.
Magic is our passion but we are not a magic shop 
 You can purchase this here!
[usr=10]
[/vc_column_text][/vc_column][vc_column width="1/3″][vc_column_text]
[/vc_column_text][vc_widget_sidebar sidebar_id="gp-standard-sidebar"][/vc_column][/vc_row]