[vc_row][vc_column width="2/3″][vc_custom_heading text="Reviewer: Ning Cai"][vc_column_text]DESCRIPTION
If you're looking for the best "impression device" with high definition and sensitivity, which produces super clear quality images with unbelievable versatility, The Informer is the one that will elevate your magic/mentalism to higher levels. There is no impression device on the market that can match the quality and sensitivity of The Informer. It is endorsed by the best magicians and mentalists in the business.
KEY FEATURES:
High quality impression device
High resolution/high definition images
Cutting edge technology
Extremely versatile
12 times more sensitive than any others on the market
NO DEVICE CAN MATCH THESE CAPABILITIES
WHAT'S INCLUDED:
THE INFORMER PAD AND DEVICE
Marker pen with gimmick
Extra gimmick for pen
Online access to instructional video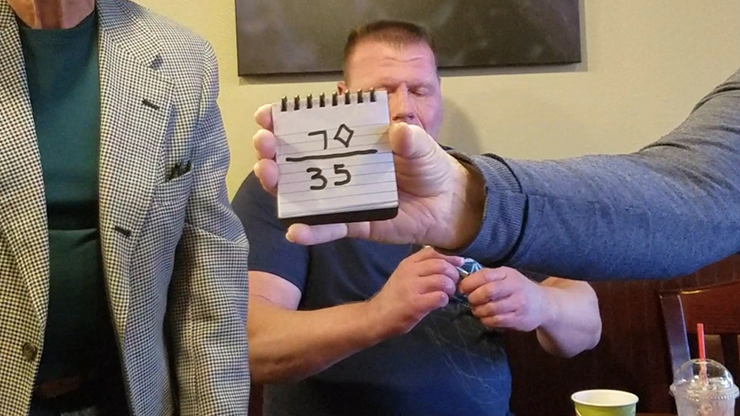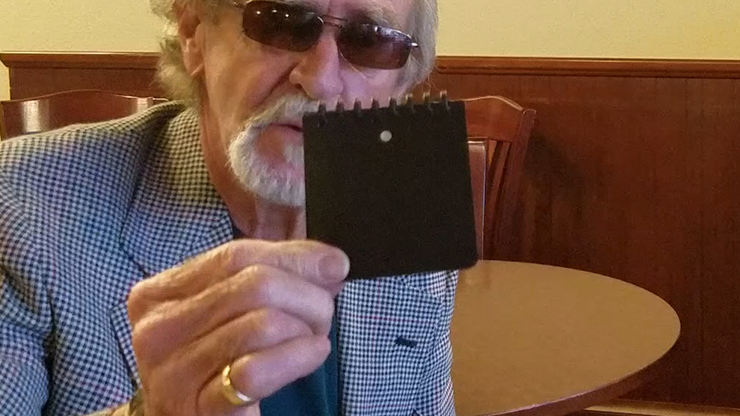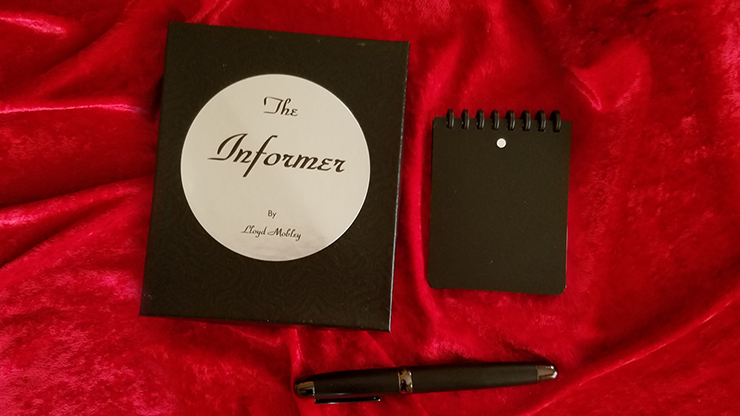 REVIEW
As most of you already know, the impression pad is one of the most diabolical tools available to the mentalist. I was excited about The Informer Impression Pad by Lloyd Mobley since it made a lot of promises in its marketing. First up, when you open your package, you do not get what you see the promo picture above. There's no fancy Sharpie sherpa marker pen but a cheap Chinese whiteboard marker, albeit already gimmicked for you. The included flip pad notebook is palm-sized, roughly 2 x 3 inches, with the gimmick (which reminds me a lot of Paralabs) already installed. Also included is a spare magnet for you to gimmick your favourite marker, as well as, a small slip of paper with the website link to the instruction video and its password printed on it.
The 18 minute long video tutorial, which feels like a magic DVD from the early 2000s, is a simple DIY job by the creator himself doing a quick product demo. There are no performance clips, even though it seemed like there were plans for it in the advertising stills. But the essential explanations, completely shot from a top down view, are clear enough.
A few suggestions are provided, with Lloyd Mobley sharing his favourite version which uses a post-it pad sticker stuck on top of the closed impression pad… while I agree that this method works for his initial version which we reviewed in 2016 which has the impression gimmick stuck on the back of a playing card… spectators, especially the discerning audience who are no stranger to magic or entertainment, may find it quite odd for this one. Logically, why have them write on a piece of post-it note stuck on your note pad, when there's paper itself in the note pad?
Several moves are shown with regards to handling the Informer Pad; all that feel way too much like the kind of action a magician would make. This leads me to think that the creator is possibly more a magician than a mentalist. A couple of times in the video, he mentions that many big names in the industry have sang high praises of his informer pad. It's a pity Lloyd Mobley doesn't have these professionals provide blurbs for his marketing. It would have been wonderful if these mentalists or magicians could provide a few performance suggestions or even a performance demo of his Informer Pad.
The topic of refills are also touched upon; how to open up the plastic rings on top of the Informer Pad to add more pages in. Do note that this process will take some time and prep work since you'll need to cut the paper to size. A paper cutter is recommended to help speed things up, once you find the right sized refills at your favourite stationery and office supplies store. And while you'e there, pick up a spare magnet just in case. The gimmick seems sensitive enough (that's what he means by "high definition"), erases well with the marker cap gimmick, and should last you a long time. Personally I am tempted to install the impression gimmick to a notepad of my own preference, which can take regular paper refills without needing to cut them to size. A new project to busy myself with during this COVID-19 lockdown, I suppose.
While it is true that there are many other options out there, this comes at a fair price point especially when you take into consideration the time and effort taken to put everything together. Despite its simple appearances, the Informer Pad by Lloyd Mobley is a powerful device with plenty of potential in the right hands. Seek the right teachers; professional mentalists who have proper lectures on the subtleties of handling such imp devices, and you will absolutely score when you use this in your performance.
Recommended.
[usr=8]
Magic is our passion but we are not a magic shop 
 You can purchase this here![/vc_column_text][/vc_column][vc_column width="1/3″][vc_column_text]
[/vc_column_text][vc_widget_sidebar sidebar_id="gp-standard-sidebar"][/vc_column][/vc_row]