[vc_row][vc_column width="2/3″][vc_custom_heading text="Reviewer: Ning Cai" font_container="tag:h3|text_align:left"][vc_column_text]DESCRIPTION
A revolutionary new ending to your multiplying wands routines has arrived! Building on Bev Bergeron's iconic creation, the incredible AmazeWands combine a gorgeous set of Multiplying Wands with a Breakaway Wand to create an innovative and hilarious routine filled with explosions of color and surprise-including a kicker ending that everyone will love.
AmazeWands are more durable and easier to use than any other set of nesting wands. They are brightly colored, lightweight and perfectly-sized for seamless operation. Constructed with a vibrant polypropylene hard plastic and scratch-resistant ends, AmazeWands will never fade. Even people in the back of a 1,000 seat theater will be able to clearly see this incredible prop.
What's in the AmazeWands box?
4 nesting wands: red, yellow, blue, green
One black and white Breakaway Wand that nests perfectly inside the green wand.
You'll also receive access to an online instructional video where Master Children's Entertainer Danny Orleans will show you 10 incredible ways to use the AmazeWands, as well as a special routine designed exclusively for virtual magic shows where the wands fool you. AmazeWands make any show more…amazing. Don't be surprised if you find yourself loving AmazeWands as much (or more!) than your audiences!
Includes: nesting wands, a breakaway wand, and video instructions.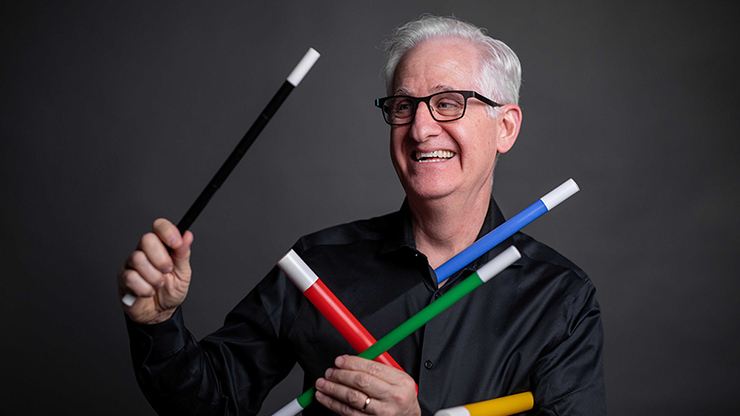 REVIEW
You know when Vanishing Inc produces something, it's bound to be good. This time, they've teamed up with Danny Orleans to come up with a set of plastic nesting wands called AmazeWands. There's so much to like about this, and I'm going to tell you why 🙂
The package comes in a proper box, to ensure that nothing gets damaged. Don't you hate it when creators give zero effort and simply chuck the goods in a plastic bag? Not these folks. The five wands came nested, so all you need to do is a quick and simple reset to start performing this well loved classic routine that's always a hit at birthday parties for kids.
The colours the four wands come in are bright, and will easily pop on stage. No worries about your audience not being able to see them as they magically multiply! The traditional magician's wand at the end for the kicker is a breakaway wand, and works well enough. I've used one before where the string was of poor quality, but there's no issues with this one.
Children can sometimes get rumbustious, especially when they're on a sugar high at someone's birthday party. So I would prefer if the plastic on this was a bit sturdier, but this is of a very fair quality for the affordable price they've set. Baring no mishaps where you get a stomping child assistant, the AmazeWands will last you a long time. And if you're a professional kids entertainer anyway, you'd probably have more than one set with you in your kit.
A concise 14 minute video featuring Danny Orleans teaching about a dozen routines with the AmazeWands is included in the box. Be sure to pull the curl of paper out before tossing the cardboard to get your secret tutorial link and password. There's even a PDF included that you can download, showing you suggestions for performing the AmazeWands via Zoom. This is especially wonderful, considering we're living in these strange times, no thanks to the COVID-19 pandemic!
These make a great investment and I would give it full marks if they were made of slightly sturdier plastic, but the AmazeWands are priced affordably and the accompanying material makes it an even better buy. Also… if you haven't gotten Kids Show Masterplan by Danny Orleans, I'd highly recommend the read. It's a lovely book which complements these wands, but more importantly will give you ideas on putting together a show fit for families and kids.
Highly recommended!
[usr=9]
Magic is our passion but we are not a magic shop 
 You can purchase this here![/vc_column_text][/vc_column][vc_column width="1/3″][vc_column_text]
[/vc_column_text][vc_widget_sidebar sidebar_id="gp-standard-sidebar"][/vc_column][/vc_row]