[vc_row][vc_column width="2/3″][vc_custom_heading text="Reviewer: Bernard Sim"][vc_column_text]Effect:
A removable Topit that also allows retrievals apart from vanishes.
Method:
Most magicians will know what is a topit but not many will own one of have ever seen one. There are many versions in the market such as Ammar's, Patrick Page's and Jay Scott Berry's to name a few. Over the years, the topit has revolved and many have come out with new designs to make it better.
So, does the new design really make it better? In this case, Topit Revolution has improved it where no one has done it before. The improvement lies in the retrieval system. Items vanished can be produced without having the hands go inside the pocket.  This is a clever system and certainly useful.
Like all topit work, you will need to put in effort to practice it as it is not easy to vanish it 100% of the time without enough practice. But once you master it, topit work can really make you magic look a lot magical and better.
Quality:
There are 4 routines taught in the streaming Vimeo video. These are not your standard vanish and finish routines. They are actually complete routines where the items are vanished and appear in impossible locations.
The topit is made of good quality materials and will last you a long time. I am impressed by the topit but not the video. It was a pain to watch as the video is in French but the voice over was in English. I can tell that there were quite a bit of conversation between Edouard Boulanger and Eric Lebon but the translator just translated short sentences, so I don't know if I really missed out a lot or if the translator is just trying to summarise. The other thing that irk me was only one translator was doing the voice over for the two of them. There was some lag during the translation and I don't know who he was translating for. The streaming video is divided into 3 parts, performance, set-up and routine explanation. You will need to input the password to the videos separately.
Pricing:
At US$99.95, considering that only 4 routines are taught, I felt that this is overpriced. You'd need to invest in other topit DVDs if you're just started out.
My thoughts:
I have a removable topit which cost me less than $20 and does the job well. I have also a Ammar style topit installed in my jacket.  Both of them has a flap to tuck into my pants and makes it easier (my opinion). Edouard Boulanger has graceful moves and I really enjoyed watching his performances but still I can't get pass the irritating voiceover.
Verdict:
This may be a good topit if you are thinking of adding it to your repertoire. But be forewarned that you'd need to invest in other DVDs for routines using the topit (Bob Fitch has some good materials on the topit). The overall cost may not be cheap.
Good topit, good routines but poor video and overpriced.
Magic is our passion but we are not a magic shop 
 You can purchase this here!
[usr 6][/vc_column_text][/vc_column][vc_column width="1/3″][vc_column_text]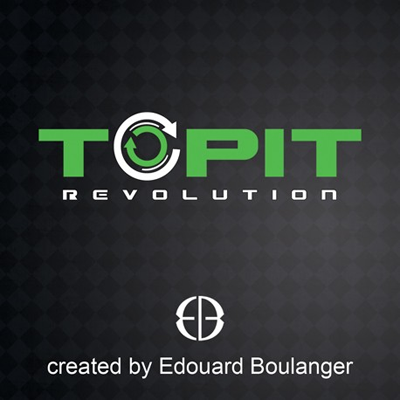 [/vc_column_text][vc_column_text]
[/vc_column_text][vc_widget_sidebar sidebar_id="gp-standard-sidebar"][/vc_column][/vc_row]