[vc_row][vc_column width="2/3″][vc_custom_heading text="Reviewer: John Teo"][vc_column_text]Withdrawal is a plastic gift card that allows you to withdraw money from it.  As the money appears from the card, the printed value of the card reduces accordingly!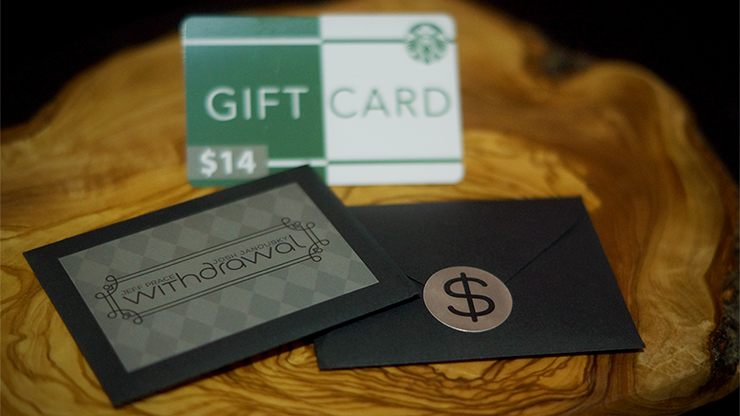 Here is how the actual effect appears to the audience.  The performer tells his audience that sometimes he runs out of cash and there is no ATM machine nearby.
He takes out a gift card from his wallet.  This card carries a Starbucks logo and has a printed value of $25.  He asks a spectator to cup both her hands.  Suddenly, a folded $1 bill pops out of the card, and the printed value of the card magically changes to $24!  He has just magically extracted a $1 ill from the gift card!
He continues and says that often, $1 is hardly enough for him.  He then proceeds to pluck a folded $10 bill from the card.  Once again, the printed value on the card now reduces to $14 accordingly!  The card can be handed out for examination.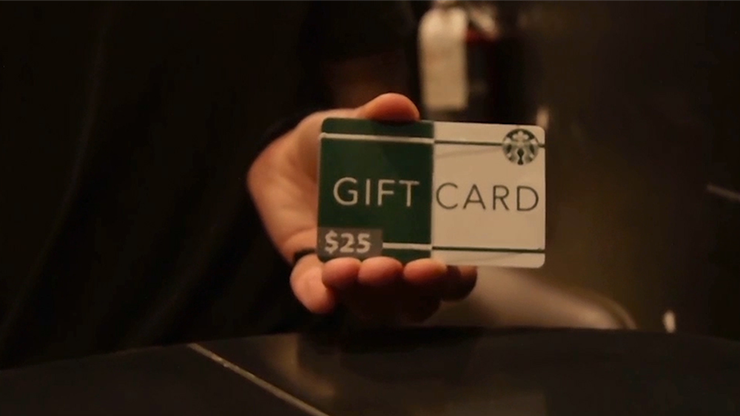 You receive the specially printed gift card and all the necessary gimmicks.  You need to construct your own finished prop.  Because of this, you are also supplied a couple of construction materials.  You are given a link to an online video instructions.  In the instructions, Josh Janousky takes you through step-by-step how to construct the gimmicked card.  You need to supply your own bills, super glue, glue, repositioning glue and a pair of scissors.
The product is available in the following currencies: USA dollars, British pounds, Euros, and Japanese Yen.  In the Japanese version, the card supplied is not the Starbuck gift card, but a music stored card.  This is to justify for the currency used.  The card shows a value of ¥2,500.  You first extract ¥100 from it, leaving the card at ¥2,400, and then ¥1,000, leaving the card at ¥1,400.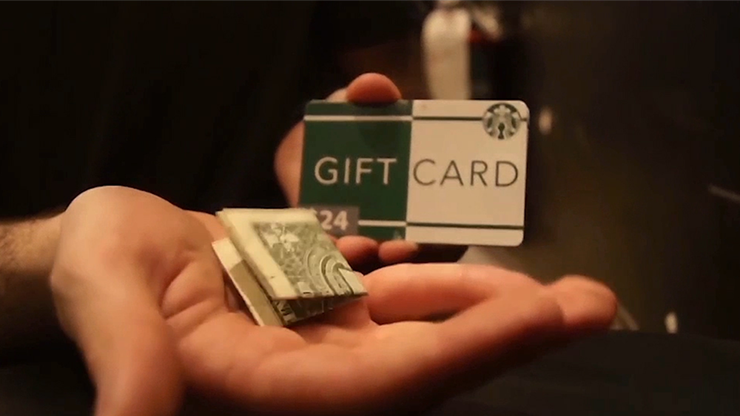 It would be more convenient if the gimmicked gift card is supplied complete and ready for performance, instead of the purchaser having to construct his own.  However, this would probably push up the price and make it unaffordable for most people.  For those who are not good at DIY, you need to get someone to construct the prop for you.    
In the video, you are taught 2 different handlings.  One is by Josh Janousky and the other one by Jeff Prace.  You can choose to use either one, or a mixture of the two.
The design of the prop is very well thought-out.  The effect is very visual with the magic occurring not once but twice.  The handling is not difficult, but you need to be aware of certain performing angles.
[usr=8][/vc_column_text][/vc_column][vc_column width="1/3″][vc_column_text]
[/vc_column_text][vc_widget_sidebar sidebar_id="gp-standard-sidebar"][/vc_column][/vc_row]