[vc_row][vc_column width="2/3″][vc_custom_heading text="Reviewer: John Teo"][vc_column_text]Appear-8 is plucking a physical 3-dimentional black 8-ball out of a 2-dimensional printed picture of an 8-ball on the front of a playing card case.
You receive the gimmicked card case – it is an empty case without the actual playing cards inside it.  This comes inside a plastic protective box.  The gimmick card case is very well-made and works wonderfully.  You also receive a small 2 inch 8-ball and a password to download the video instructions.
Steve Rowe's use for his Appear-8 is to show how powerful the human mind is.  He asks the audience to imagine something round on a card case.  When the card case is turned over, a printed picture of an 8-ball appears on the front of the case.  Immediately, Steve is able to pluck it out of the case and it becomes a real 2 inch 8-ball.  Steve uses Appear-8 as an introduction to any card routine.
However, a write-up of Appear-8 states that Steve uses it in conjunction with an invisible deck.  This is a good use of the Appear-8.  You get a full routine out of it.
A brief description goes like this:
The performer asks a spectator to name any card in a deck.  He appears to be disappointed when a black 8 spot card (ie either 8 of spades or 8 of clubs) is not named.  He turns the card case over to show that he has a printed picture of a black 8-ball on the case as his prediction.  He says he can fix this and proceeds to pluck a real 8-ball out of the picture.  The 8-ball picture magically vanishes when the real ball appears.  
The performer then opens the card case and takes out the deck of cards.  He spreads the cards to show that the freely named card is the only card that is facing the other around in the deck.  This card also has a different colour back from the rest of the cards in the deck!
Appear-8 is a comedy mental effect.  It is a good routine.  It is an adaptation of John Bannon's "Hot Shot Production" effect.
In the video, Steve teaches you how to make a simple and cheap deck holder.
Appear-8 is simple to do and guarantees to open wide the eyes of your audience when you pluck a real ball out of a printed picture on a card case.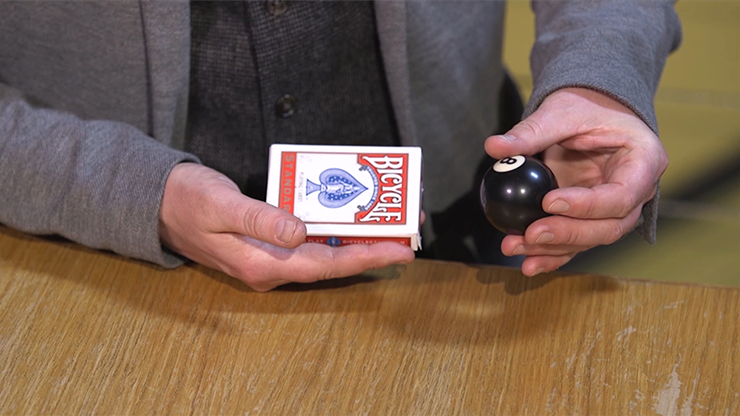 Magic is our passion but we are not a magic shop 
 You can purchase this here!
[usr=8][/vc_column_text][/vc_column][vc_column width="1/3″][vc_column_text]
[/vc_column_text][vc_widget_sidebar sidebar_id="gp-standard-sidebar"][/vc_column][/vc_row]