[vc_row][vc_column width="2/3″][vc_custom_heading text="Reviewer: Ning"][vc_column_text]DESCRIPTION
The brilliant evolution of Deep Astonishment
PAUL HARRIS PRESENTS DEEP CLEAR
THEIR FAVORITE WORD IS INSIDE YOUR CLEAR WALLET!
Paul Harris' Clearest Deepest Astonishment is a bullet-proof Masterpiece.
A window-ID-wallet VISIBLY holding a small packet of cards is placed on the table.
Anyone FREELY calls out a short, favorite word or name.
Let's say it's ZING.
She uses her magic word ZING for a fast, fun Card Mystery
But that's just the Deep Clear warm up…
Your empty hands pick up the clear wallet and slowly slide out the cards that have never left her sight!
Drawn on each card is a single large bold letter.
The letters spell out a single word…
Z..I..N..G
Her favorite word has been inside your clear wallet the ENTIRE TIME!
Paradigms popped… Stunned Silence… Deep Astonishment
Paul Harris' Deep Clear is the culmination of Over 20 years of experience with his original Deep Astonishment concept.
Deep Clear has a dramatic new gimmick and new structure. Everything about Deep Clear is faster… Easier… more convenient… and more open (your spectator can even shuffle her cards).
Deep Clear is an authentic PH masterpiece exquisitely designed to be your transcendent last-gasp show-stopper.
* The New skinny Deep Clear Wallet is a joy to use.
* One touch and it's done. Easily fits in your shirt pocket.
* Prediction cards have a DIFFERENT COLOR BACK than deck.
* No force: use any short word with different letters.
* No palming. Very easy to do.
* No cue cards or memory work.
* No secret writing.
* Adapt to your favorite deck backs.
* Draw your own prediction letters in any style or colors you'd like.
* Works in ANY language!
Comes complete with ready-to-use gimmicks and USPCC deck of cards.
EXPERIENCE THE EVOLUTION OF ASTONISHMENT TODAY!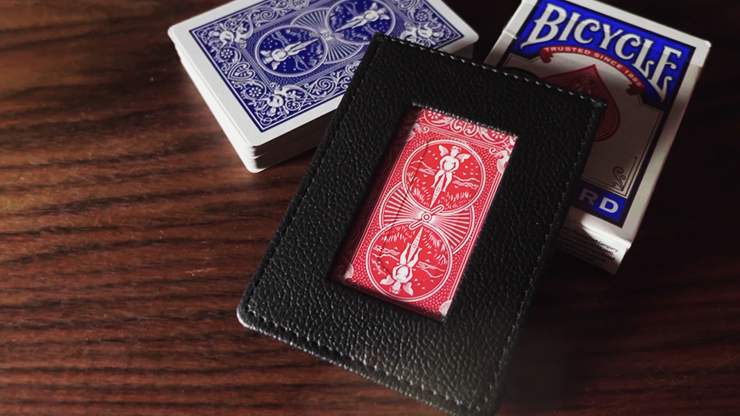 REVIEW
I've been a fan of Paul Harris since first coming across his books 20 years ago. The man is a bonafide creative artist whose work and astonishing creativity has absolutely inspired other magicians over the years. Deep Clear is the latest offering from the Paul Harris Presents brand, and I've had some fun playing around with it. It certainly gets reactions!
Before you can begin, you'll need to first spend some time checking out the online instructions hosted on Murphy's Magic to get an idea of the handling. First watch the original 35 minute long tutorial, and then very importantly, the next video where the very clever Dave Loosley from Alakazam UK shares his own take on this.
Trust me, even though his video on the DC Vanish is just a mere 8 minutes long, Dave's sharing will make a strong staggering difference in how much you'll enjoy Deep Clear. Context wise, it's like a hipster retro Vespa morphing into a mean lean loving Kawasaki Ninja machine. Pretty much magic on steroids. So don't forget to watch that second video!
Now, if you're curious but don't own the Art of Astonishment series by Paul Harris, you'll be ecstatic to know that the original instructions from the original effect (Anything Deck) are also available as PDF downloads for your reading pleasure. It's all there with the two video tutorials.
FYI in case you're not aware, a personalised touch is required to set up the provided Deep Clear deck… pretty much like this card effect I reviewed not too long ago. Personally, I don't find this prep work a hassle. In fact, I much prefer this as opposed to getting something mechanically printed. Other than grabbing a Sharpie to start working on that aspect, the package has everything else you need to start performing the spelling prediction routine.
The gimmicks provided in the set are all right, no real complaints although I need to highlight that the wallet and cards cannot be examined for obvious reasons. They're props. Use audience management accordingly. While the routine is easy to pull off and you don't really need to be a sleight of hand ninja, please practice well before taking this out into the real world. In the right hands, this one can be a real stunner 😉 Recommended.
[usr=8.5]
Magic is our passion but we are not a magic shop 
 You can purchase this here![/vc_column_text][/vc_column][vc_column width="1/3″][vc_column_text]
[/vc_column_text][vc_widget_sidebar sidebar_id="gp-standard-sidebar"][/vc_column][/vc_row]