[vc_row][vc_column width="2/3″][vc_custom_heading text="Reviewer: John Teo"][vc_column_text]It is stated on the package of this product that this is "the open prediction with a kicker twist".  Here is the actual effect: A red deck is shown and taken out of its case.  Included in the red deck is a blue backed card.  This is a prediction card and it placed face downwards on the table without showing its face.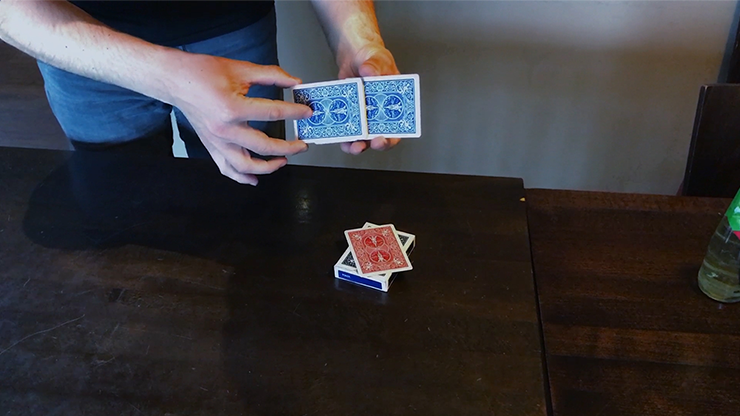 The deck is shuffled and a card is chosen and the spectator assisting the performer signs her name across the face of this card.  It is then lost back in the deck. Meanwhile, the empty card case is placed on top of the blue backed prediction card on the table, partially covering it, and ensuring that no one can take the blue card away without first touching the card case.
The performer tries to find the signed selected card, but fails in the attempt.  He says he will make the selected card appear inside the card case.  The card case is picked up, opened and shown to be still empty.  Finally, the performer makes the impossible happens – he picks up the blue backed prediction card that is on the table the entire time.  He turns it over, and it turns out to be the spectator's selected and signed card!  This can be given away as a souvenir to the spectator.  It is indeed "the open prediction with a kicker twist"!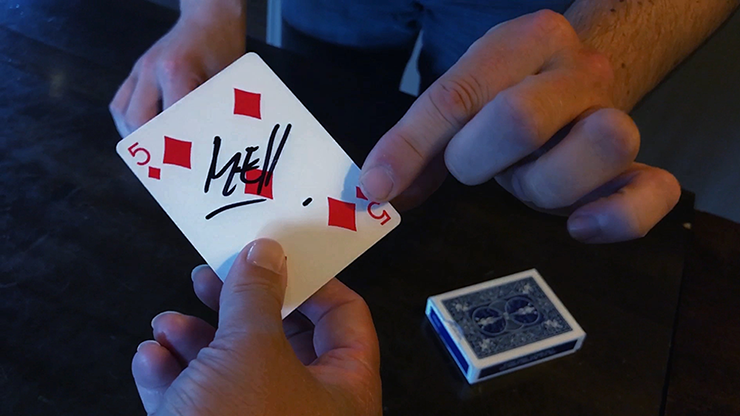 You receive the special card box and the Prevision gimmick.  Both the card case and the gimmick are very well constructed.  Instructions are in the form of a video downloadable from the internet.  You need to supply your own deck of bicycle cards.  Please specify the colour of the backs of the bicycle deck you wish to perform with when you place your order.  If you prefer to work with red backs, you will be supplied with a red bicycle card box, and the gimmick will be in blue back.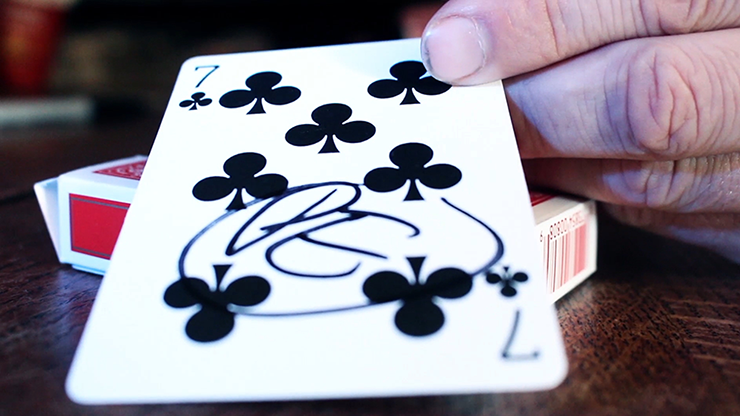 The video instructions are by Ron and are quite comprehensive.  Ron gives his preferred way of performing Prevision and discusses some valuable tips.  
Reset is easy – all you need is to replace the prediction card with another card of a different colour back.  After the performance, the main item of suspect, ie the prediction card with the different colour back which is now the signed card, can be given away as a souvenir.  This is a strong point.  The card case seems totally innocent and will not attract attention.  The audience will have no idea how this miracle was accomplished.  
Please support intellectual property. Only buy original. Available from all reputable Murphy's Magic dealers.
[usr=8][/vc_column_text][/vc_column][vc_column width="1/3″][vc_column_text]
[/vc_column_text][vc_widget_sidebar sidebar_id="gp-standard-sidebar"][/vc_column][/vc_row]